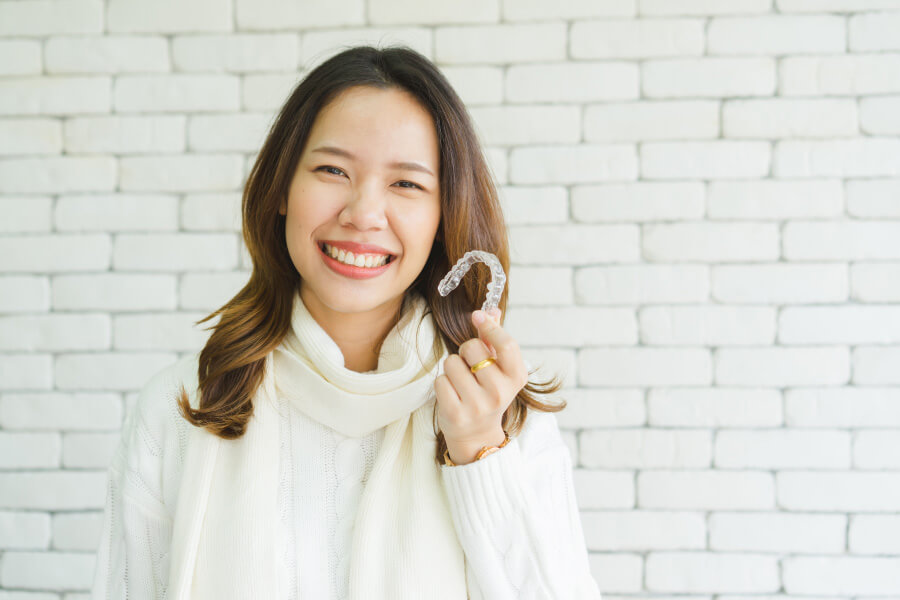 Do you have generally crooked teeth or gaps between your teeth? Perhaps you had orthodontic treatment years ago and your teeth have started to shift around once again.
Invisalign clear aligner therapy is an excellent option for those who want to discreetly straighten their teeth. We proudly offer Invisalign clear braces here at Gastonia Family Dentistry! Learn more about Invisalign below.
What Is Invisalign?
Unlike metal braces, Invisalign uses clear, removable trays that slowly shift your teeth into proper alignment over time. After your initial consultation, your dentist will create a computer-generated, individualized plan that will produce your clear aligners. These aligners slip right over your teeth to discreetly shift them.
They are to be removed when you brush, floss, eat, and drink anything other than water, but you must wear them for at least 20-22 hours a day for optimal results.
Every two weeks, you will receive a new set of aligners that'll further shift your teeth into their desired positions. At routine dental visits, we'll ensure that your teeth are shifting as planned.
What Can Invisalign Fix?
Invisalign is ideal for common alignment problems such as crooked teeth, gaps, crowding, overbites, underbites, and crossbites. In general, Invisalign can treat mild to moderate alignment issues but is typically not recommended for more advanced orthodontic issues.
How Long Does Treatment Take?
This depends on your individual orthodontic needs, but average Invisalign treatment is between 12 to 18 months.
Benefits of Invisalign
These are just a few of the benefits of Invisalign:
Discreet and barely noticeable
Removable so it's easy to keep your teeth and gums clean
Smooth aligners are comfortable to wear
Affordable Invisalign Treatment in Gastonia, NC
If you are interested in Invisalign, please schedule a complimentary consultation with us to learn more about treatment and determine if it's the right treatment plan for your needs. We will review the cost of treatment during your consultation.
Gastonia Family Dentistry offers a variety of payment and financing options to help keep your treatment affordable. We're even offering a special discount for Invisalign right now!