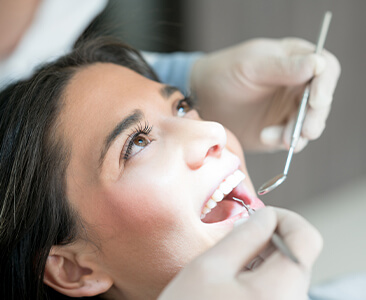 Even if you take great care of your teeth and gums at home (and we know you do!), it's possible that you may develop one or more cavities in the future. We always recommend that patients schedule at least two routine dental visits with our team per year to get their teeth checked out, as this can help us diagnose and treat cavities while they're still very small. To learn more or schedule your next appointment with our team, please contact us!
What are the benefits of tooth-colored fillings?
Composite dental fillings can be custom made to blend in with the surrounding teeth, while silver amalgam fillings stand out much more. Tooth-colored fillings also require less of the tooth to be removed before they can be placed, which means more of the natural, healthy tooth can remain. Patients are also sometimes concerned about the safety of silver fillings, as they can contain small amounts of mercury. Tooth-colored dental fillings are perfectly safe for patients to utilize, and it's more common for patients to switch from silver to composite than the other way around.
What is the process for placing a tooth-colored filling?
Before a filling can be placed, the cavity must be removed. Once local anesthetic is injected into the gums near the tooth and the mouth is numbed, your dentist will carefully drill away the decayed area of the tooth. The filling is then molded to fit into the tooth perfectly, and it is filed and modified to ensure that it looks great and won't stand out at all. Your mouth will likely still feel numb for a few hours post-treatment, so we recommend waiting to eat until the numbness wears off and using the other side of your mouth to chew while the filling settles.
Can cavities heal on their own?
Unfortunately, once decay has developed past a certain point, it must be removed and replaced with a filling. However, cavities are very common, and they are nothing to be ashamed of. If tooth decay is not treated promptly, it will only continue to spread and harm the rest of the tooth and the surrounding teeth. The harmful bacteria that causes tooth decay may even find its way inside the tooth, which will cause an infection, and a root canal and crown would be required instead of a simple dental filling. If you suspect you may have a cavity, your best bet is to reach out to our team and schedule an appointment.