Christian Hart, DDS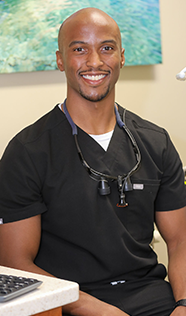 Dr. Christian Hart is committed to providing an exceptional dental experience by understanding patients' needs and delivering top of the line treatment. By listening to each patient's desires for their oral health, he gives solutions that solve their concern as well as improve their smile. Dr. Hart found his passion for dentistry through a dental accident of his own when his two front teeth were broken in half during a sports accident as a kid. After the traumatic experience and successful repair he was inspired to help others feel confident about smiling.
Dr. Hart attended college at North Carolina State University where he studied chemistry then attended dental school at the University of North Carolina at Chapel Hill where he was awarded the Academy of General Dentisty's Excellence in General Dentistry Senior Student Award. At the conclusion of dental school, he attended a year long dental implant surgery program with the American Academy of Implant Dentistry to advance his skills in surgical techniques. After practicing for two years in the Northern Virginia/Washington DC area, he decided to return home to the Charlotte region and join Gastonia Family Dentistry to serve his community. Dr. Hart prides himself on taking a comprehensive approach to dental treatment. In addition to general dental care he has extensive experience with dental implants, wisdom teeth, and bone and gum grafting as well.
Born and raised in Charlotte and its surrounding suburbs, Dr. Hart is happy to call the region home. When he is not in the office, he enjoys exercising and lifting weights, training Brazilian jiu jitsu, watching sports, and spending time with family and friends.