Our dentists understand that patients often have a fear of visiting the dentist. Because of this, we offer safe, effective oral sedation dentistry near you at our Gastonia, NC dentist office. If the thought of visiting the dentist has you feeling anxious, Gastonia Family Dentistry is ready to help make your visit to the dentist a calm and relaxing one.
The Advantages Of Oral Sedation Dentistry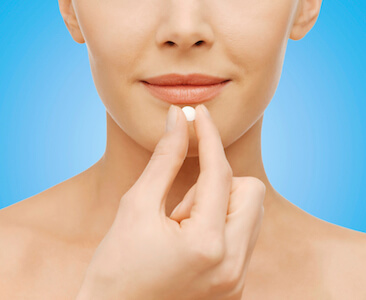 If dental appointments make you anxious, our dentists can prescribe oral sedation to help you feel more at ease during your visit. Oral sedation dentistry is safe and comfortable for most patients.
Some of the advantages of oral sedation dentistry:
It's easy to take. One of our Gastonia dentists will prescribe a pill to help you stay calm during your dental appointment. All you have to do is swallow it an hour or so before your appointment and you'll feel relaxed and calm by the time you arrive at our Gastonia dental office for your appointment. Please note, you cannot drive yourself to your appointment after taking an oral sedative. Be sure to arrange transportation to and from our office!
There are no needles. Many people are afraid of needles, which are used for IV sedation. Oral sedation is needle-free so you don't have to worry about facing your fear of needles at the dentist.
It's safe. Every oral sedative we prescribe at Gastonia Family Dentistry is regulated by the FDA and is safe for adults to use. Our staff will review your medical history with you before prescribing oral sedation to ensure you don't experience negative side effects.
You won't be unconscious. You'll feel drowsy after taking oral sedation, but you'll still be awake and responsive during your dental appointment. You don't have to worry about not being able to respond to instructions during your appointment.
Is Oral Sedation Dentistry The Best Choice For You?
Oral sedation dentistry is also called "relaxation dentistry," "anxiety-free dentistry," or "sleep dentistry."
Oral sedation dentistry can be ideal for:
Easing anxiety you may feel before or during a dental appointment
Allowing our doctors to complete complex or extensive dental procedures in a single visit
Patients with special needs
You're In Good Hands At Gastonia Family Dentistry
At Gastonia Family Dentistry, your health and well-being is our #1 priority. While that begins with a healthy smile, it also includes offering safe dentistry to our patients who might be feeling anxious about visiting the dentist.
Dr. Briggs dedicates many hours to continued training, studying the most advanced techniques and requirements to help patients enjoy a comfortable dental visit. At our Gastonia dental office, all safety guidelines are diligently followed so you know you and your family are in good hands.
How Can We Help?
We want every visit to Gastonia Family Dentistry to be a positive one for your and your family. If you are afraid to visit the dentist or have had a negative dental experience in the past, please tell our staff so we can discuss the possibility of oral sedation dentistry with you.
We will take your blood pressure and get a complete medical history prior to your dental appointment so we can make sure oral sedation is a safe option for you.
Questions About Oral Sedation Dentistry?
Don't let dental anxiety keep you and your family from receiving the dental care you need. Call Gastonia Family Dentistry to schedule your anxiety-free dentist appointment with the help of oral sedation today!