Comprehensive Orthodontics in Gastonia, NC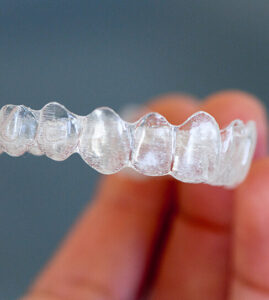 Gastonia Family Dentistry is proud to offer quality comprehensive orthodontic care to our patients in Gastonia. If you are interested in learning more about our orthodontic services or scheduling a consultation with our team, please give our office a call or send us a message through our virtual contact form.
Our Orthodontic Services
Invisalign® Clear Aligner Therapy is an increasingly popular orthodontic option due to its ability to treat both simple and very complicated orthodontic issues. Invisalign uses a series of comfortable clear aligners to gently shift the teeth in an average of 12 to 18 months. Patients are required to wear their aligners between 21 and 22 hours per day to keep their treatment plans on track, only removing them to eat and brush their teeth.
Lingual Braces are a unique type of metal braces that adhere to the back of the teeth instead of the front, making it very hard to tell that the patient is undergoing orthodontic treatment. If you like the advantages that metal braces offer but you want something more discreet, lingual braces are a great choice. Patients wear lingual braces for an average of one to three years, depending on what their unique orthodontic case requires.
Benefits of Orthodontic Treatment
Many patients pursue orthodontic treatment because they want to enhance the cosmetic appearance of their smile. However, orthodontic treatments come with a lot of other benefits as well! Our comprehensive plans don't just make your smile look nicer, they also correct a wide range of orthodontic issues. Benefits of orthodontic treatment include:
Boosts Confidence and Self-Esteem
Reduces Risk of Tooth Decay
Prevents Certain Teeth from Being Worn Down
Makes Eating and Flossing Easier
Helps with TMJ/TMD and Other Issues
Which type of braces should I choose?
Invisalign clear aligners and lingual braces are both excellent orthodontic options, and the kind that you choose will ultimately depend on your specific needs and what will work best for your smile. Lingual braces tend to be better for patients who don't want to keep track of clear aligners, and they are virtually unnoticeable to others. Invisalign is great for patients who don't want any food or activity restrictions and are committed to wearing their aligners as often as possible.
If you are still unsure of which option to choose, our team would be happy to help you decide during your consultation. Contact our office today!
Schedule Your Orthodontic Consultation With Gastonia Family Dentistry Today!
If you want to know which of our orthodontic services could be the right solution for your smile, give our Gastonia dentist office a call. We're always happy to answer any questions you have about orthodontics or any of the other dental services we offer!