At Gastonia Family Dentistry, we want each and every one of our patients to love their smiles. If you are experiencing tooth loss, our dental implant specialists offer permanent tooth loss treatment to help restore your smile. Our convenient and comfortable Gastonia, NC dentist office is always here to help!
Are Dental Implants Right For Your Smile?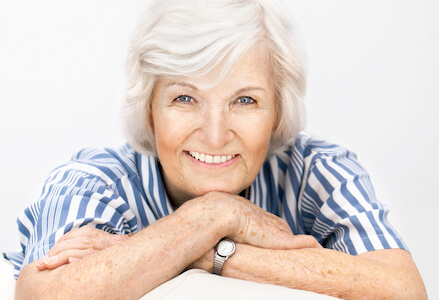 Are you missing one or more of your teeth? Regular brushing, flossing, and preventive checkups allow some people to maintain their natural smiles for a lifetime. However, sometimes our teeth just can't keep up with our busy lifestyles!
If you've lost a tooth (or teeth) due to injury or decay, dental implants could be the right solution to help repair your oral health and rejuvenate your smile. Gastonia Family Dentistry is one of the few dental practices in Gastonia to offer surgical dental implant placement right in our comfortable office.
Tooth loss can be caused by a variety of situations: oral trauma due to an accident or altercation, illness, stress, age, decay, and more. Sometimes it's just bad luck that causes someone to suffer the loss of a tooth!
Though the reason for tooth loss varies, what everyone wants as the solution remains the same: their natural, healthy smile back.
Dental implants are often the best solution if you are facing tooth loss because they:
Look Natural - You don't want a tooth replacement that looks fake, drawing even more negative attention to your smile than a lost tooth. With dental implants, you are able to restore your smile with permanent, natural-looking teeth.
Don't Hurt - A tooth replacement for your lost tooth (or teeth) needs to fit in your mouth easily, allowing you to enjoy any food without irritating your gums or adjacent teeth. Once healed, dental implants are a pain-free, permanent solution!
Are Easy To Take Care Of - Dental implants are permanent - no slipping dentures or removable bridges! You can take care of your dental implants the same way you do your natural teeth, with simple brushing and flossing.
Keep Your Mouth Healthy - Bulky dental appliances can cause bone loss and irritation in your gums, as well as increase your risk of periodontal disease and tooth decay. Dental implants remove that risk because they fit perfectly with your natural smile.
Can Last A Lifetime - Your dental implants are created to last the rest of your life! No other tooth replacement solution can make that claim.
The Computer Guided Difference
How are "Computer Guided Implants" different than traditional dental implant procedures? Using CEREC CAD/CAM and 3D XG technology, our doctors can precisely place the implant in the best location using a surgical guide. This guide eliminates the need to cut a flap in the gum to expose the bone underneath, which in turn eliminates the need for sutures, making it much more comfortable for the patient.
In addition, using the surgical guide allows us to place the implant in just the right position, near your other natural teeth, avoiding contact with nerves and sinuses.
Faster Surgery. Easier Recovery.
No more freehand approach to dental implant surgery and no more gum flaps! Most implant surgeons approximate the location of the implant. They cut a large flap in the gum to expose the jaw bone underneath, then must add several sutures once the implant is placed. This adds to the healing time and discomfort for the patient.
At Gastonia Family Dentistry we use the "Guided Implant" dental implant procedure system that allows us to simply punch a very small hole in the gum to place the implant. No sutures needed! Using the guide takes the guesswork out of the equation, ensuring the best possible position, for the best dental implant outcome.
How Do Dental Implants Work?
Modern tooth restoration has never been better! Dental implants are titanium posts implanted in your jaw that act as artificial "tooth roots," permanently anchoring your new tooth, bridge, or denture. Each implant is topped with a dental crown, providing a chewing surface and restoring the appearance of the missing tooth.
What to Expect
If you decide to get a dental implant to replace your missing tooth, here is what you can expect:
First, we will scan the area of the missing tooth with CEREC to create your "virtual" crown in just the right shape and dimension. Next, we take a digital 3D scan of the area. Your dentist will review it thoroughly, documenting location of nerves and sinuses and taking detailed measurements.
Additional oral surgical procedures, like a bone-graft, may be necessary in certain situations, such as if you have lost bone or need to reposition sinus linings in the area of your missing tooth.
Afterwards, our Gastonia dental team places your implant "virtually" at just the right depth and angle. This allows us to be extremely precise in the location of the implant in proximity to your other teeth, thus avoiding nerves and sinuses. This data then integrates with our CEREC CAD/CAM system, where we virtually place the crown on the implant, ensuring the implant will be the best shape and size to fit your bite and your smile.
Once the virtual components are all in place, we then use the data to mill a surgical guide (usually right here in our office). Our doctors then use this surgical guide while placing your dental implant. The guide directs them to the pre-planned depth and angle of your implant, ensuring the most accurate placement.
What Type Of Dental Implant Do I Need?
At Gastonia Family Dentistry we offer several types of dental implants to our patients suffering from tooth loss. A consultation with our doctors can help determine what type of dental implant will work best for your smile.
Single Dental Implant
If you've lost a single tooth due to decay or trauma, a single dental implant can be the best way to help you smile with confidence again. Your natural tooth can be replaced with a single titanium dental implant and natural-looking dental crown.
A dental implant will replace your natural tooth's root and surface, allowing you to smile, speak and enjoy your favorite foods just like you could with your natural tooth!
All-on-4® Dental Implants
With the All-on-4 dental implants process, your dental implants are stabilized together with a prosthesis to allow you to use your teeth immediately.
If you are a good candidate for All-on-4 dental implants, you can expect to have your teeth in just one day! Everyone's case is unique but the vast majority of the work done by our Gastonia restorative dentistry team will be done before your implant surgery.
Hybrid Implant Dentures
Hybrid implant dentures are an innovative solution for patients who would like to replace full rows of teeth but not get full mouth dental implants. This type of restorative dental procedure consists of dentures that are permanently fixed to dental implants.
Unlike regular dentures, your prosthetic teeth are anchored to a set of four dental implants. Hybrid implant dentures can be the ideal solution for patients who are tired of dentures causing irritation to their gums and sliding around their mouth.
How Much Do Dental Implants Cost?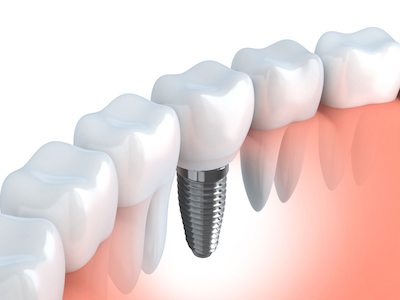 Just like any surgery, there are numerous factors that can influence the cost of dental implants. We can provide you an accurate estimate after a consultation at our Gastonia dentist office. Considerations include:
The quality, amount, and location of bone. If you require bone grafting, the total costs associated with your implants will be higher.
The number of teeth that need to be replaced and the type of dental implant that will be used.
Dental insurance. Some insurances cover only parts of implant treatment, or have a waiting period for eligibility.
If you're concerned about the cost of dental implants, call our Gastonia dental implant center to schedule your consultation. A consultation allows us to spend time with you to understand your oral health goals and financial considerations, while giving you the best possible information about dental implants.
Whether you're on a budget, have a fixed income, or aren't sure if your dental insurance covers dental implants, we have a variety of financing plans available to you.
Dental Implant Restoration
Problems with dental implants are rare, but they can happen. If you notice your dental implant has loosened, is causing your gum to swell, or the crown on top of your implant is cracked, call us right away! A dental implant can't fix itself and if you try to treat it at home, you could end up causing more damage to your mouth.
Schedule Your Dental Implant Consultation With Gastonia Family Dentistry Today!
If you have questions about dental implants, tooth pain, or any other services Gastonia Family Dentistry offers, give our Gastonia dental implant center a call.