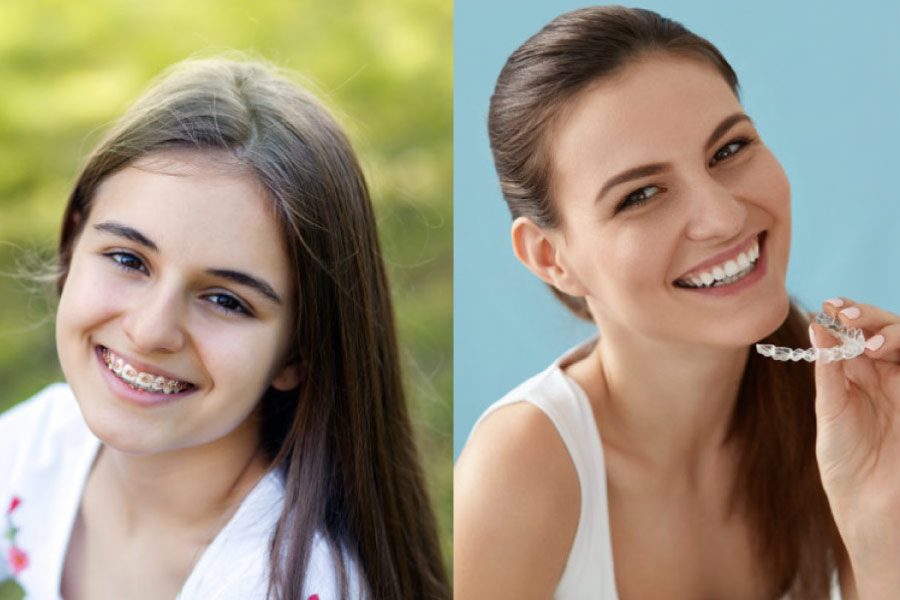 Do you wish your smile was more even? The benefits of straight teeth, other than their improved appearance, include easier cleaning and less wear-and-tear. Orthodontics like metal braces and Invisalign move your teeth into a straight position. Here are some of the most frequently asked questions about Invisalign and orthodontics.
What Are the Differences Between Traditional Orthodontics & Invisalign?
Traditional metal braces bond to your teeth with a special adhesive. An arch wire puts pressure on your teeth to move them, while the other parts - like the brackets - hold everything in place. We use metal braces for serious misalignment. Invisalign®, a type of clear aligner therapy, uses more gentle pressure and is not bonded to your teeth. Invisalign is used for mild to moderate alignment issues. Lingual braces are a type of metal braces put on the back teeth, so they provide the effectiveness of metal braces in a more subtle package.
What Are the Benefits of Invisalign?
Clear aligners are removable, nearly invisible, and much more comfortable than traditional metal braces. Because you take out the aligners when eating, there aren't food restrictions during treatment. It's also easier to keep your teeth clean and healthy.
How Do I Clean My Invisalign?
When you have Invisalign, you remove the aligners for cleaning. Clean them whenever you brush your teeth in the morning and evening. Each time you remove your aligners, rinse them in lukewarm water before returning them to your mouth. Toothpaste is too abrasive, so wash your aligners with gentle hand soap or denture cleaner.
How Long Does Orthodontic Treatment Take?
Clear aligner therapy takes an average of 12-18 months. You must wear your aligners 21-22 hours a day for the best results. Traditional metal braces and lingual braces take between 1-3 years. The length of time depends on your case.
What's the Cost Difference?
Cost depends on a few factors such as the complexity of your case and how long you need your orthodontics. Braces can be more affordable, but it depends. Gastonia Family Dentistry offers several payment solutions. We accept major insurance carriers like Aetna, Cigna, and Delta Dental. Additionally, we offer 0% financing options through CareCredit.
Orthodontic Treatment at Gastonia Family Dentistry
Not happy with your teeth? Orthodontic options like Invisalign, traditional braces and lingual braces can transform your smile! Each treatment has different advantages, so please contact our Gastonia office today for a consultation to see what works best for you.