Molly Briggs, DDS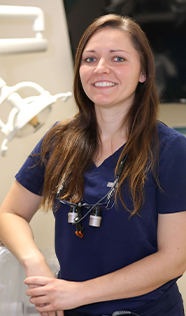 Dr. Briggs received her Doctorate in Dental Surgery from University at Buffalo in Buffalo, NY. She then went on to complete a residency in Advanced Education in General Dentistry in Phoenix, Arizona, where she was able to treat medically compromised patients in all aspects of general dentistry. Prior to dental school, she received a B.S. in Biomedical Science from Rochester Institute of Technology in her native city of Rochester, NY. She is excited to be a part of Gastonia Family Dentistry where she can provide excellent patient care with the use of cutting edge technology.
Outside of dentistry, she enjoys reading, interior design, hiking, and spending time with friends.
Molly is a member of the American Dental Association and the North Carolina Dental Society.
Prevention and Patient Education
At Gastonia Family Dentistry, prevention is the foundation upon which we practice oral healthcare. We emphasize patient education, empowering our patients to fully achieve their dental goals and helping to preserve their smiles for a lifetime. We invite you to call our office and ask us any questions that you may have about your oral health.